Overview
California's Outdated Juvenile Justice Data Framework
Juvenile justice systems need be able to demonstrate that the programs and services they provide are appropriate and effective. Adequate data on caseloads, facilities, services and youth outcomes should be collected and made widely available. Central state leadership is needed to devise and implement common definitions and performance measures that all agencies and jurisdictions will observe.
California Has Fallen Behind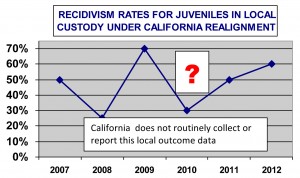 While other states have developed modern data networks, quality assurance systems and central websites with comprehensive offender information, California clings to outmoded data systems and fractured agency approaches. Washington State, for example, supports the Institute for Public Policy (WSIPP), tasked by law with analyzing outcomes for youth in state-funded programs with the results forwarded to lawmakers as a basis for making future funding decisions. California has no such quality assurance setup.
Several groups have recommended retooling of California's bare-bones juvenile justice information and performance measure system—but little has been accomplished. The Juvenile Justice Operational Master Plan published by the State Juvenile Justice Commission in 2009 analyzed current data deficiencies and offered a detailed outline of upgrades that would put counties and the state on common ground, building what the Commissioners called a "performance based juvenile justice system" for California—but those recommendations still sit on the shelf.
Some of the key problems that need to be addressed are:
Scattered juvenile justice data are collected by different agencies. The Board of State and Community Corrections (BSCC) is just beginning to tackle this problem.
Important measures of admissions, populations, capacity and length of stay in local juvenile justice facilities are lagging or lacking entirely. 
The state does not have common definitions or measures for program performance and youth outcomes. For example, there is no system-wide definition of "recidivism".
The state's primary juvenile justice data reporting system (the Juvenile Court and Probation Statistical System or JCPSS) uses out-of-date technology and cannot track important caseload or outcome data. 
Little thought has been given to measures of system or youth performance beyond the simple measure of recidivism—such as education outcomes for justice-controlled youth.
Policymakers in California have made a strong investment in data collection to track caseloads and outcomes for 2011 adult prison realignment in California, but there is little to no movement on the juvenile justice side. California needs a comprehensive juvenile justice reform plan tied to a feasible investment strategy.